Earlier this year, Acumium was thrilled to launch a new website for the Friends of San Damiano (FoSD or "Friends") at www.sandamianomonona.org.
About Friends of San Damiano
FoSD is a non-profit organization that's formed a public/private partnership with the City of Monona, Wisconsin. Their shared mission is to advance a community-driven transformation of the property known as "San Damiano," turning it into a one-of-a-kind Lake Monona destination built on environmental, historical, cultural, and recreational value.
Nancy Moore, alderperson for the City of Monona, Wisconsin, and ex officio FoSD board member, described the potential impact of this community undertaking:
"San Damiano Monona is a once-in-a-lifetime project for the City of Monona and Madison's East side. We know with the public's help, it will be transformed into a new and unique Lake Monona destination for all to enjoy. But San Damiano has been in private hands and off limits to the public for nearly 100 years. So, there is a very high need to tell the site's story, invite the public in, and engage them in its future possibilities and development. And all during a pandemic."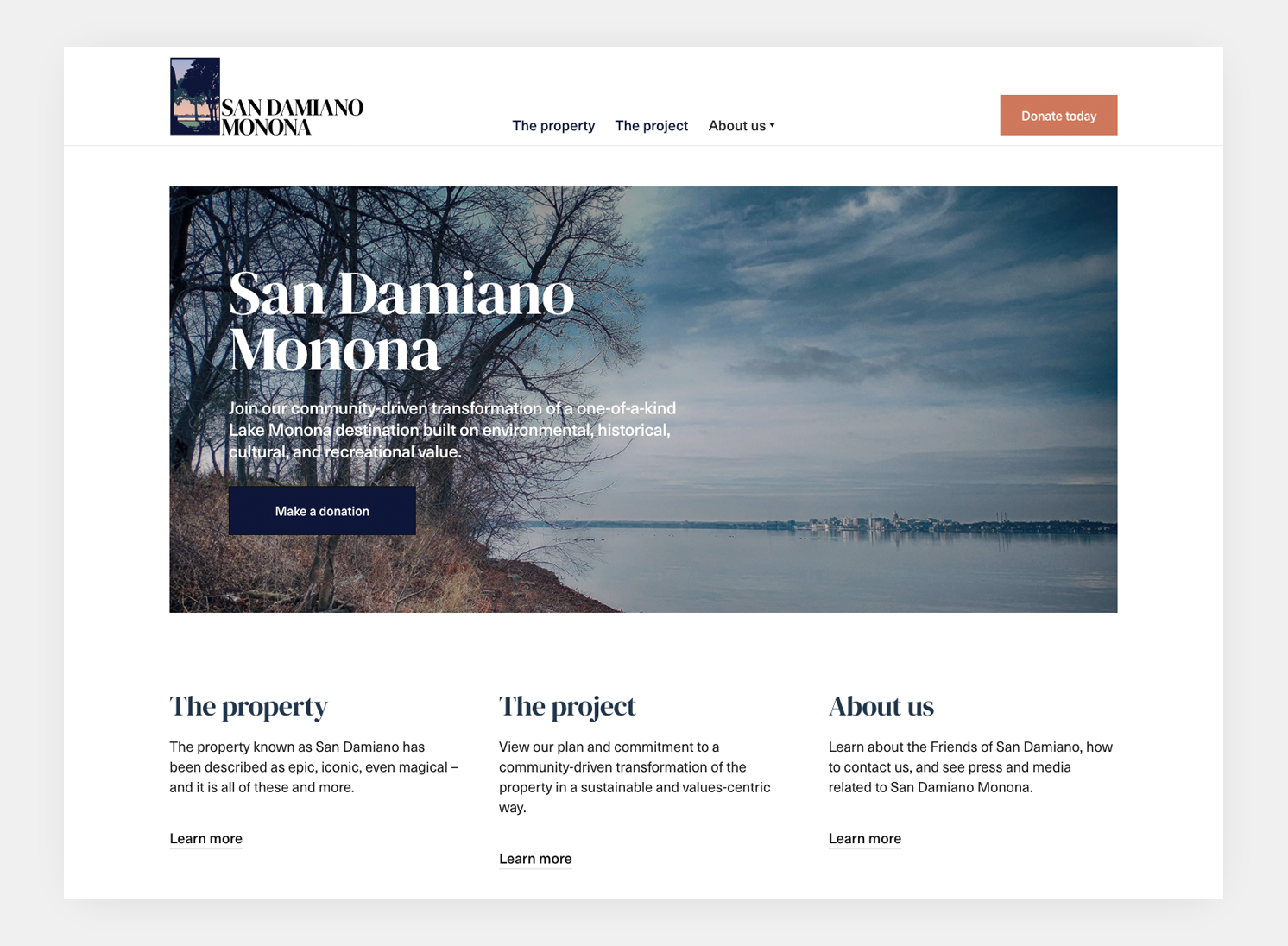 A bonus HackingKindness
Since 2019, Acumium has done an annual social good hackathon called HackingKindness, where we volunteer our design, development, and digital marketing time to organizations who are trying to do good in the world. Our previous recipients have been Mikayla's Grace in 2019, and the Foundation for Dane County Parks in 2020. We actually hadn't planned on doing another HackingKindness until later in 2021, but when the opportunity came up last fall to help the Friends spin up their initial web presence and provide some support to this initiative, we thought it was a great opportunity for a "bonus hack."
"We knew [the website] would be a critical communication vehicle for the public, all but a few of whom have never stepped foot on the property," said Andrew Kitslaar, Friends of San Damiano President. "It was important to us that we shared our story in an inviting and attractive way."
Moore echoed that sentiment, saying, "A project of this magnitude requires a once-in-a-lifetime response. Our selection as a HackingKindness project couldn't have been more timely or perfect."
The project
The Friends needed their website to be a digital ambassador for this initiative, helping them tell the story of this important, complex effort. They needed it to be a source of timely information and updates for the general public and potential supporters, educating them about the property, the project, and the FoSD team and mission. People needed to be able to easily donate to support the work, read articles in the news media about the project progress, and know how to contact FoSD.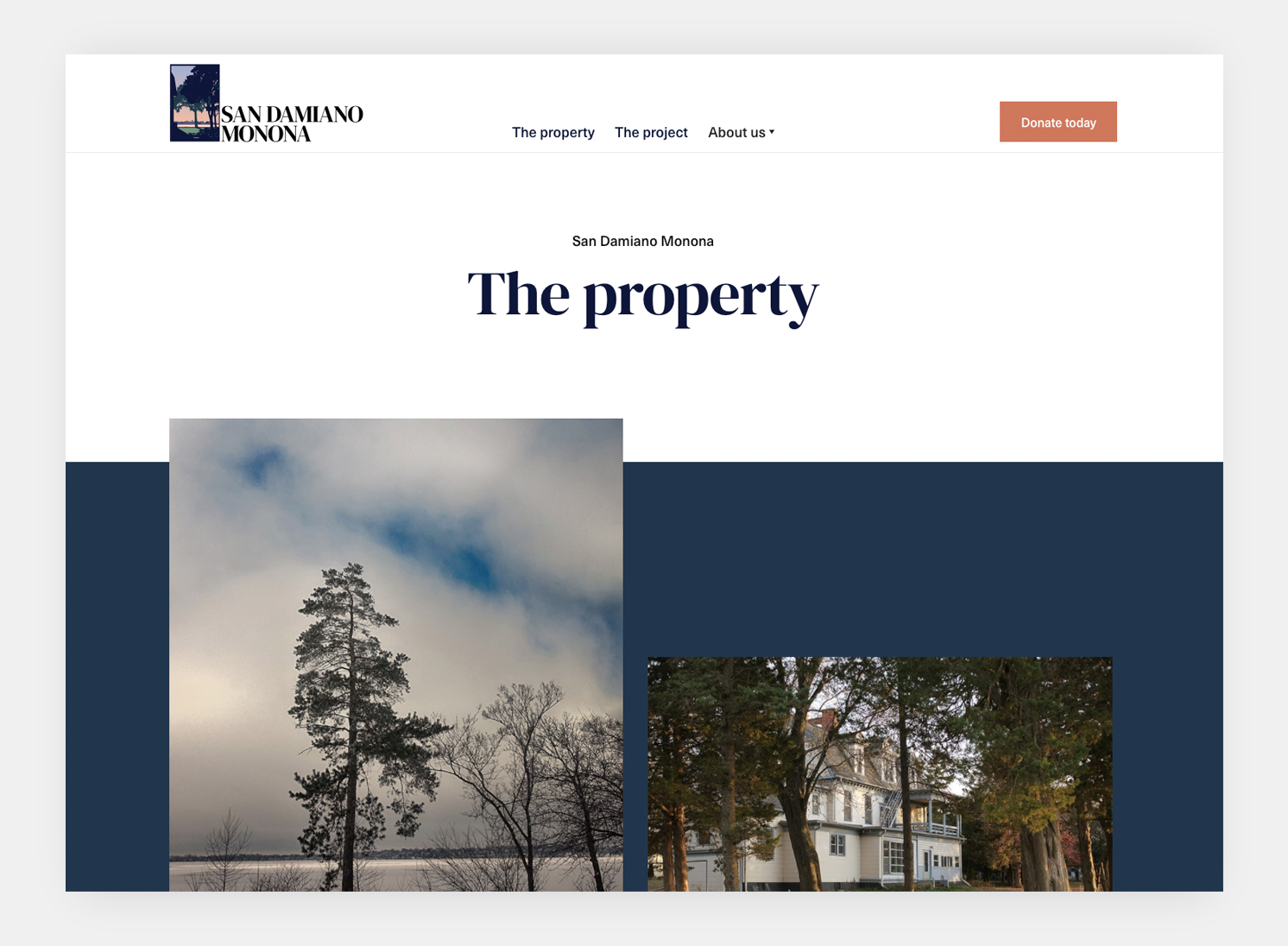 As we started talking with the Friends team about their vision for the site, they came ready with clear requirements and lots of great ideas, along with a well thought-out initial content plan. We built their site on the Webflow website design and content management platform, a choice that allowed us to move quickly, keep FoSD's operational costs low, and end up with a polished and modern site that the Friends team could easily maintain when the time came. Acumium's Executive Creative Director, Paul Lackner, also designed a visual identity with variants to serve both the Friends group and the website.

We truly enjoyed working with the FoSD team, and are looking forward to continuing our partnership and helping them move this important community project forward. And we were honored to hear they felt the same way. "Working with Acumium was really a delightful process," Kitslaar shared. "They designed a logo and developed a website that we are so proud of and are happy to have represent us. Throughout the project, they were organized, patient, and thorough, making the process easy and enjoyable. We were lucky to work with them."
Send us your HackingKindness nomination
We accept HackingKindness nominations year-round, and will be selecting a recipient this spring for our next hackathon coming up in the summer of 2021. Do you know a local business or non-profit that does good within our community and needs help with website design, development, branding, creative design, or digital marketing? Submit a nomination today!