Acumium is thrilled to announce the launch of a new website for our friends at the Foundation for Dane County Parks, our 2020 HackingKindness recipient.
About HackingKindness
HackingKindness is Acumium's annual social good hackathon. We started it in 2019 as a way to use our expertise and capabilities as a digital agency to give back to Madison-area businesses and non-profits trying to do good work.
Nominations are open year-round; any individual or organization can nominate themselves or another group for consideration. Each year, we select one nominated local organization to partner with, offering them free work, time, and consulting in the areas of website design, development, branding and visual identity, digital marketing, and/or overall business strategy.
Our inaugural nominee was Mikayla's Grace, and we enjoyed that first project so much, we knew we wanted to make HackingKindness an ongoing thing.
Our partnership with Foundation for Dane County Parks
In 2020, we selected the Foundation for Dane County Parks (FDCP) as our HackingKindness partner. We were excited at the opportunity to work with the FDCP team to define, design, and build their first-ever website presence.
Samantha Haas, FDCP volunteer and photographer behind many of the beautiful images on the FDCP site, said: "In January, just a few weeks after our volunteer-run nonprofit learned that it received two grants to hire its first staff members, the Foundation knew it would finally have the capacity to manage a website in 2020. When we heard about Acumium's HackingKindness social good hackathon, we were excited to apply. A few months later we were thrilled to learn that the Foundation had been selected, and that's when a rewarding collaboration with Acumium began."
The FDCP team came to their project ready to roll up their sleeves and work. Right away, they brought a clear vision for their site to our planning conversations. They had robust and well-thought-out content goals, designed to help them communicate the Foundation's mission, goals, and activities. They knew they needed easy content editing and the ability to integrate with their donation management platform. After assessing options, we decided on Webflow as the best platform for their needs. Our respective teams came together on a Saturday in late July for the initial hackathon, where we built out the majority of the site structure. Content writing, population, and fit/finish continued until the site was deemed ready to launch earlier this month (on World Kindness Day, which seemed appropriate for a social good-inspired launch).
Foundation staff member Elisa Guerrero was instrumental in getting the site ready for launch. She shared that "Having a well-designed website is an exciting and meaningful step forward for the Foundation's programming and fundraising efforts. Thanks to Acumium's expertise, our website is engaging for supporters, and is easy for staff to edit and update. We can't thank Acumium enough for their work and highly recommend that others apply for their HackingKindness initiative!"
The new FDCP website provides a way for the Foundation to speak to, and connect with, supporters of Dane County Parks. It will provide a centralized location for information on the Foundation's activities and events; their Endowment fund and grants; and special projects that impact Dane County Parks, such as Accessible Piers, "Healthy Parks, Healthy You," Legacy Forest, and the E-Way Model Restoration. It will also allow the Foundation to accept online donations, greatly increasing their fundraising capacity.
"Thank you for helping our Foundation communicate effectively to a much broader audience," said Bill Lunney, President, Foundation for Dane County Parks. "The website will be a major factor in communicating our goals of preserving and supporting our beautiful and diverse Dane County parks system as it grows into the future."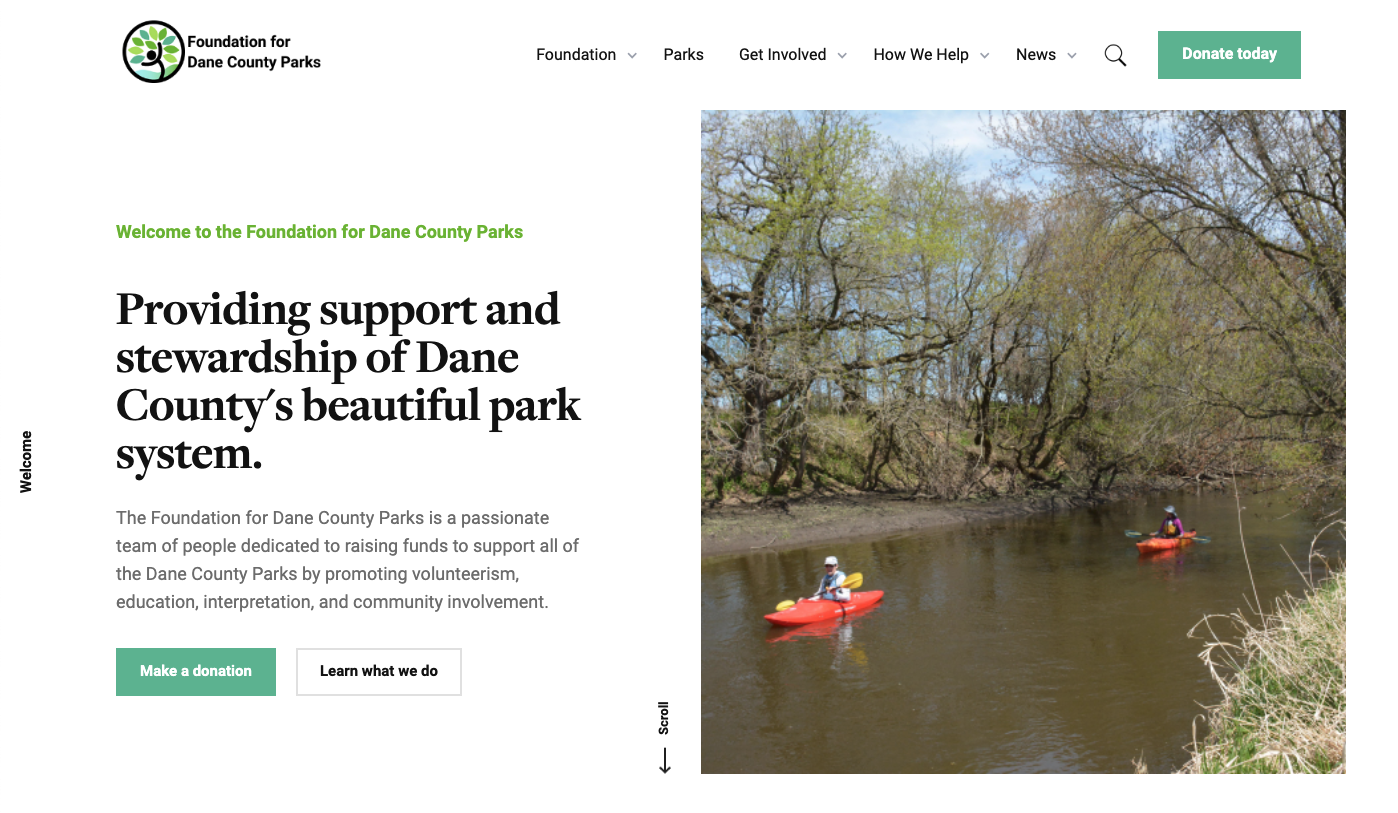 You can visit FDCP at https://www.foundationfordanecountyparks.org
Who will we work with in 2021?
As we close out our successful 2020 effort, we're already looking forward to helping another organization in 2021! Submit your nomination for a Madison-area business or non-profit that's working to do good in the community and could use a little help with website design, development, branding, creative design, or digital marketing assistance.